How about adding life to your live photos, images or videos?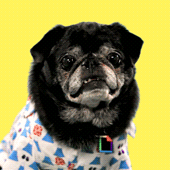 Spiced up with creativity and effective visuals, GIF allows you to express emotions and convey your messages in artistic ways. Be it a live video, or a moving image, it is very easy to convert it into eye-catching GIFs using apps. Hence, to create entertaining animated visuals, all you need is glance through these best GIF creator apps for iPhone and choose the most suitable one for your specific taste!
The apps come with several exciting features like, adding multiple effects that augment the beauty of visuals. You can add captions to express your emotions and to convey the message. Also, you have various filters that help your GIFs look more impressive. Are you geared up to make an awesome GIF? Here are some GIF creator apps for iPhone and iPad! Thanks to iGeeksBLog.com for the list.
Best GIF Maker Apps for iPhone and iPad
#1. Giphy Cam
Almost everyone's favorite GIF maker app is here. Apart from creating fabulous GIFs, you can record amazing visuals with Giphy Cam. Capture videos, live images or photos and convert them into amusing GIFs. You can add some exciting filters with "rad" effects to make it more alluring as well.
If you want your GIFs little more entertaining, then you can add quotes, funny stickers, and face-tracked accessories. This will also enhance the charm of your image. Also, instantly get social with your artistic GIFs.
Price: Free
#2. PicsArt
Think if all your photos and video clips are placed well in a single image! Yes, PicsArt lets you synchronize GIF images in one frame. The app has a plethora of effects to choose from. Make your animated GIF more customized by adding colorful effects to it.
Additionally, you have unique filters to make your GIF appealing. You can also use a variety of text options to convey your message creatively. What's more? Let your GIF creations reach out to the world. Share them in your social circle or export them to your own PicsArt gallery.
Price: Free
#3. GifLab
Here is yet another free app to make different types of animated GIFs quickly. GifLab allows you to convert videos and images into remarkable GIFs. You can control speed, add captions and apply bright effects and make them as comic as possible using filters.
Besides, you can use its other features like looperang and force touch. This helps control the frames of your GIF. Want to try this custom-made GIF app? You are just a few taps away! Lastly, you can upload your masterpiece on social sites or share URL with your loved ones.
Price: $1.99
#4. Giffer
Want a funny collection of GIFs to entertain your loved ones? You can create sensational GIFs by using advanced features like adjustable animation speed, frame trimming, 25 amazing filters and much more.
Animate your clips perfectly! You can pick any photos or videos and convert them into adorable GIFs. Add, delete and reverse frames as per your need. There is also an option to crop frames to remove unwanted parts. Apart from this, you can make your GIFs more content friendly by adding some messages to it.
Price: $2.99
#5. GIF
It is not just an ordinary GIF maker but also a modernizer in many ways. This feature rich app allows you to add photos, videos, and music to your GIFs. With more than 200 effects, you can polish your creativity and make them hilarious.
Any other positive trait? You can modify its opacity, size, and even apply masks to make it amusing. Once your GIF is ready, you can save it as a movie file or share it with your pals. Would like to try this adorable GIF maker? Go ahead. It is free and easy to use.
Price: Free
#6. Video to GIF
Video to GIF will allow you to convert local and iCloud video clips into spectacular GIFs. You have 15 photo effect templates to choose from. To enrich its visuals, give any effect template. Moreover, you can add animated content to convey your message and make GIF more expressive.
Plus, it is very easy to rotate, reverse and change the quality of GIFs. Once, your GIF is created, share it on social media platforms like Facebook, Twitter and other. You can also get its URL to share it with your friends.
Price: Free
#7. GIF Toaster 
It is a very simple yet very functional GIF maker. You can select the variety of photos from your photo gallery, burst photos and convert them into attractive GIFs instantly. The app consists of all types of effects and filters that make your masterpiece stand out.
There are various options given to convert photos into GIFs. Choose any option to get an instant GIF. You can make the decorative collage of your photos. If you want to enjoy its advanced features, then go for its pro version and have dramatic GIFs in place.
Price: Free
#8. GIF Maker
Equipped with versatile features, GIF Maker is a terrific app to design out of the box GIFs. You can record comic moments captured in photos and convert them into funny GIFs. Interestingly, you will add around 50 photos in one GIF, this will make your GIF look more entertaining.
Also, you will have premium quality moving images in one frame. Explore the wide range of editing effects like bizarre, scary and funny. This is how you can refine GIFs as per your choice. Lastly, you can share them with your friends and family.
Price: Free
#9. Gif Creator with text & Photo & video
Bring something extra to your creative galore. Convert photos and video clips to funniest GIFs. To make it look more lovable, you can use multiple filters and effects.
Also it allows you to add text messages so that you can express your emotions evidently. Within a few seconds, your GIF is ready to go Social. Entertain your folks with hilarious GIF.
Price: Free
#10. HipGif
Creating animated GIFs with HipGif is the absolute fun. This app has wonderful features like stickers, filters, effects and more. You can add as many stickers as you want, apply awesome effects and write your message on it. Just a few taps and your GIFs are ready!
What's special about HipGif? You can add meme in the background to make your moving images comic. Pick any background color as per your liking and create amazing slides in one go. Sounds exciting? Give it a try.
Price: Free
Thanks to iGeeksBLog.com